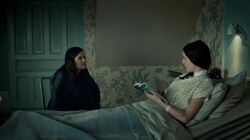 Alana and Abigail
General Information
Intimacy Level
Dr. Bloom is Abigial's psychiatrist and has shown interest about girl's well-being
First Met
Status
Friends
Gallery
| | | |
| --- | --- | --- |
| " | Professional neutrality be damned. It's so hard to watch a bright young girl go so adift. Alana to Lecter | " |
The relationship between Alana Bloom and Abigail Hobbs. They first met in Potage, although Alana came to visit her in Amuse-Bouche. Dr. Bloom was Abigail's psychiatrist until she died and she also sincerely cared about what happens to the girl and she had a difficult time watching her suffer.
In
Potage
, when Alana visits Abigail in the
hospital
, she's taken aback by Abigail's seemingly unscathed demeanor
following her terrifying injury. In
Oeuf
, Abigail is staying at a home under the supervision of Alana, where she seems remarkably composed, but extremely vulnerable. Alana consults with
Lecter
over Abigail's treatment and finds his suggestions are opposite to hers
as he suggests she be released and allowed to deal with her issues in the outside world.
An angry Alana scolds Hannibal for releasing Abigail and wants to take her back. Hannibal covers himself by saying he gave a stressed Abigail half a Valium to excuse the fact she is still in the hold of the mushrooms. Alana  is stunned at the meal-spread Hannibal has put on, and agrees to stay and eat with them. Abigail appears blissfully happy to see Hannibal and Alana transformed into the smiling faces of her dead parents. Apparently, this was Hannibal's plan all along, including luring Alana to the breakfast meal.
In Mizumono, after Abigail reveals herself to be alive, she is forced to push Alana out of window after saying sorry to her.
Ad blocker interference detected!
Wikia is a free-to-use site that makes money from advertising. We have a modified experience for viewers using ad blockers

Wikia is not accessible if you've made further modifications. Remove the custom ad blocker rule(s) and the page will load as expected.