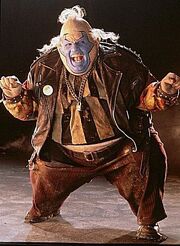 Masz znajomych, którzy są ogromnymi łasuchami? Zjadają dosłownie wszystko, co sobie kupiłeś, a ty z grzeczności nie chcesz im odmówić? A może po prostu myślisz nad zrobieniem psikusa kolegom czy rodzeństwu?
Jeśli tak, to lepiej trafić nie mogłeś! Mamy niesamowitą przyjemność przedstawić coś, co zniszczy kubki smakowe każdego człowieka! Obrzydliwe cukierki są naprawdę okropnym smakołykiem, który pozornie przypomina wyglądem zwykłe łakocie. Ofiara do końca nie wie, co zaczyna jeść, bo smak również początkowo nie odbiega od typowego cukierka. Dopiero po wgryzieniu się w środek zaczyna się prawdziwy odlot, zawroty głowy czy efekt wymiotny.
Ad blocker interference detected!
Wikia is a free-to-use site that makes money from advertising. We have a modified experience for viewers using ad blockers

Wikia is not accessible if you've made further modifications. Remove the custom ad blocker rule(s) and the page will load as expected.