The following is a full listing of the cast for the episode "Kō No Mono".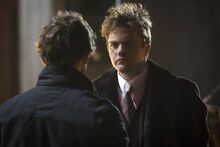 Main Cast
Edit

Recurring CastEdit
Guest Cast
Edit
Ezio Bondi as Garage Attendant Samuel Faraci as Franklin Ray Kahnert as Minister Kalen Davidson as Stag Man
Ad blocker interference detected!
Wikia is a free-to-use site that makes money from advertising. We have a modified experience for viewers using ad blockers

Wikia is not accessible if you've made further modifications. Remove the custom ad blocker rule(s) and the page will load as expected.